Keep it interesting
Types of Gigs
Not only does Intouch work with an amazing roster of brands, but our Independent Contractors also have access to a wide variety of shops to choose from. Some assignments can be done in as little as 5 minutes, and others can take up to 2 hours. Find an opportunity that fits your lifestyle and get started today!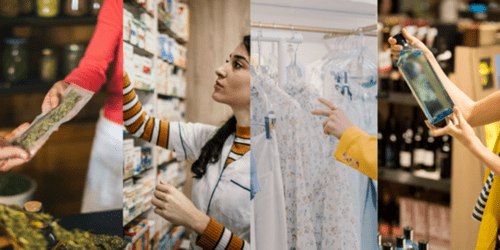 Help businesses and brands ensure compliance with regulations for age-controlled products like alcohol, tobacco, cannabis and lottery.
If you are between the ages of 18-24 (age requirements will vary depending on the jurisdiction) and already purchasing these products, did you know you can earn extra cash just by signing-up?
Customer Experience Shops
Go undercover and help businesses understand the great and not so great things about the experiences they deliver to their customers.
Customer Experience Mystery Shoppers will evaluate everything from whether brand standards are being met, wait times for service, and more!
And best of all, you can get free fuel, groceries or meals while you complete your shops!
Compliance & Operational Audits
Want to dig deeper? Our Auditors work with businesses in an open manner to evaluate how they are meeting operational standards.
Compliance and operational audits can take anywhere from 20 minutes up to 2 hours, and focus on business operations like health and safety, operational standards, and inventory management.
These audits are conducted either in-person or virtually.
Become an Independent Contractor, Today!
We only work with the best Independent Contractors in the business. If you are detail-oriented and want to help brands understand and improve their customer's experiences, we want to hear from you.